17 septembre 2014
3
17
/

09
/

septembre
/

2014
16:42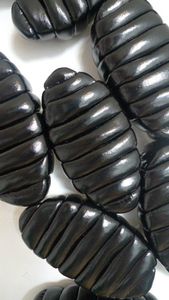 The puzzling meaning behind certain works of art quite often leaves the visitors of major exhibitions cold. People familiar with Mai Tabakian's art are confronted instead by an irresistible challenge – touching her works. Blame it on the visually striking colour combinations, the smooth textures or the soft yet solid consistency, but the temptation to stretch your hand and reach out to Tabakian's totemic structures, flower-like formations or alien creatures, is hard to resist.
A new exhibition opening this month at the Mathilde Hatzenberger Gallery in Brussels is going to invite visitors to step into Tabakian's world and confront them once again with this challenging temptation, while pondering on the theme of cycles and circles.
"Cyclo" - the first solo exhibition by the Paris-based artist - explores alternating phases and cyclical stages in a clever way. Tabakian goes from more obvious themes such as the cycle of the seasons and creation, to disciplines as disparate as science with the phases regulating living organisms, and economics as well, looking at the trade relations in business.
Though her sculptures and compositions point towards abstract art, they are quite often inspired by geometry. Tabakian splits and multiplies, reunites and combines her geometrical shapes to create eye-catching formations characterised by intricate patterns with the duplicitous and ambiguous power of attracting and upsetting at the same time the viewer.
A perfect circle-like composition in pastel shades reveals itself as a formation of cells spied through the lenses of a microscope; her Slices are imaginary fruits that may have gone through genetic manipulations, while you can bet that if they will ever do a filmic remake of Agatha Christie's And Then There Were None in a sci-fi key, Tabakian's sculpture-object Little Soldiers, a game of exclusions, will appear in it as the centrepiece.
"Cyclo" promises to be a visual and tactile feast with hallucinatory yet fun undertones. Enter Tabakian's world at your risk and peril, but remember that - if you're brave enough to do so - you will be totally charmed.